January 19, 2016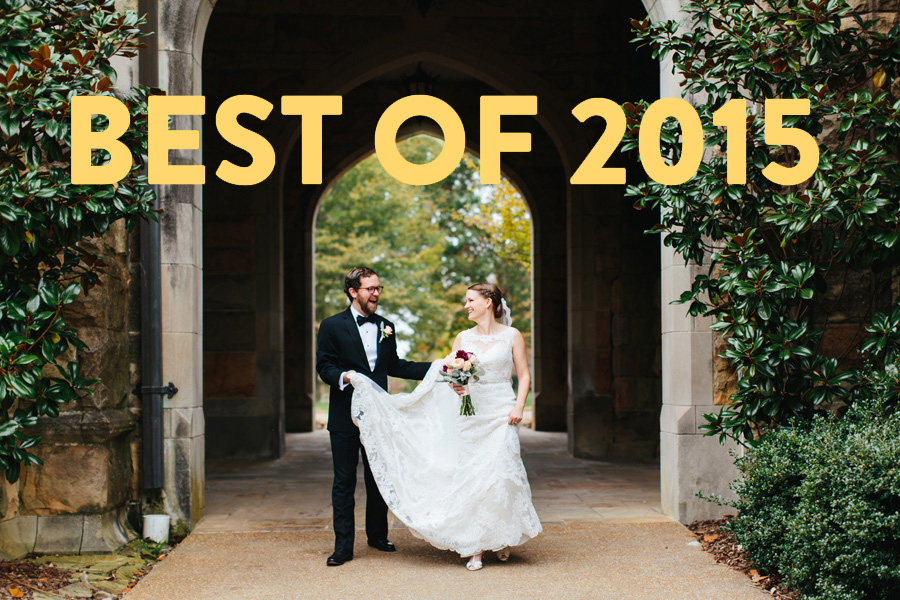 2015. I can't believe it's come & gone. As a wedding photographer, I have a strange connection to years. How many weddings did I book this year? How many do I have next year? Should I book this wedding for 2017? I can hardly imagine the year 2017!
2015 use to be one of those far off years that I couldn't imagine and now it's gone and here I am reminiscing about it. Just like they say time flies when you get older, it certainly feels like it flies when you are a wedding photographer. I arrive at weddings thinking "didn't I just sit down with this couple for coffee? Oh wait, that was 14 months ago." Never before have I been so aware of time. Was that too weird? Oh well, new years always seem eerie to me.
Damn. What a year. I photographed more than I ever have before. I delivered a whopping 24,372 photos to clients this year & pressed the shutter button about 4x more than that. I photographed my first wedding under a live oak tree in Beaufort, South Carolina. Two incredible artists flew me to New Hampshire for their wedding. I photographed a couple with a llama. My pants split at a wedding (and I don't think anyone noticed). I was rained on. I stopped a kid from lighting his hair on fire with a sparkler. I found myself all over the south photographing joyful days with joyful people, stuffing my face with cake when I had the chance.
Lots of cool stuff happened this year, but I'm still finding myself back where it all begins: the moments & the joy. From the meaningful to the weird to the hilarious… those are the types of photos I'm always drawn to & the ones I work tirelessly to photograph for my clients. Weddings aren't perfect & neither are my photos. They're real & they are full of all sorts of ridiculous things, like a groomsman stuffing his face with barbecue or a dad embarrassing himself on the dance floor.
The best part of 2015: marriage equality. I photographed so many same sex elopements, weddings, and sessions this year, many of which where completely set into course by the Obergefell v. Hodges Supreme Court ruling. I photographed three ceremonies on the first say of same sex marriage in Alabama & two on the first day in Chattanooga. I photographed friends finally able to marry in their state! It was such a historic year & it was a privilege to feel so involved, even in such a small way.
To my clients, thank you for your trust and your vulnerability and your weirdness. Thank you for the cake, pies, cookies, buffets, and everything else I nommed, Thank you for your kind reviews & sweet emails. Thank you for helping me make 2015 the most productive & exhilarating year in my career.  <3